E

verything

A

bout

B

oats.org
The ultimate reference resource about boats for everyone from the
beginning recreational boater to the seasoned professional mariner!
---
To Search this website, use the SEARCH BOX near the ⇑ TOP ⇑ of the Right Sidebar ⇒
Members can Click "Account" in the Right Sidebar to view or edit their information ⇒
Click "SIGN-UP – Gift Memberships – Donate – Renew" in the Right Sidebar to renew ⇒
To Navigate this website, CLICK on any Topic on the WEBSITE CONTENTS page to open the linked Topic Page, Directory, Article, etc, OR Click on any of the
Topic links in the Right Sidebar ⇒
---
THIS SITE IS SECURED BY THE LATEST SSL (https:) TRANSPORT LAYER SECURITY!
---
Current Academy Members may ask our experts
anything about boats by Clicking the "ASK AN EXPERT" link in the Right Sidebar ⇒

CLICK HERE to become an Academy Member with your donation of just $25
Your generosity makes this website possible.
---
OUR WEBSITE PAGES WELCOME YOUR COMMENTS (SEE Comment Rules).
Anyone can Submit Articles to EAB (EverythingAboutBoats.org).
Professionally authored articles welcome Peer Reviews.

---
⇓ − ⇓ − ⇓ − ⇓ − ⇓   

FEATURED ARTICLES

   ⇓ − ⇓ − ⇓ − ⇓ − ⇓
---
Lehman Manufacturing Company produced marinizing components for the Ford Industrial Power Products (UK) 4 cylinder and 6 cylinder diesel engines,… Engine Specifications … Manuals. … "Fixes" that need to be accomplished before the engine suffers catastrophic … Go To Article!
⇓
Be sure to check out the sister article titled Ford Industrial Power Products Diesel Engines for the complete history of the Ford of Britain engines that dominated marine propulsion during the last half of the 20th Century especially in Asian Trawlers. This article includes specifications and links to SpecSheets, Manuals, Parts Catalogs, and much more.
---
This Model Chart by Range & Years of Production covers the Ford Industrial Power Products diesel engines and is an excellent aid to understanding the chronology of the various Ford of Britain engines from the "Dagenham" 4D though the popular Dorset and Dover 2700, 2710 & 2720 Range, and to the most recent … Go To Article!
---
Detroit Diesel introduced its first 4-stroke-cycle engine, the 500 cubic inch 8.2L "Fuel Pincher" diesel engine in 1980. … The 8.2 engine utilized several design features found in some automotive gasoline engines… This in part led to the popular misconception that the 8.2 was an adaptation of an existing gasoline engine. … Unfortunately, due to its misguided design and light build the 8.2 proved to be quite troublesome especially in marine service as it was prone to "blowing" head gaskets and…. These shortcomings are discussed in detail… Go To Article!
The "Open-Deck Free-Standing" cylinder design was this engine's most detrimental shortcoming as It triggered frequent head gasket failures that often resulted in serious hydrolock damage.
---
Havórn Marine Survey and Shipwright School offers a course called The Art of Marine Surveying. The five-part program includes hands-on and classroom instruction, plus an optional private apprenticeship w…. Upcoming Class Schedule …. L&I Retraining funds …. Continuing Education (CE) credits are accepted for these programs by SAMS …  and NAMS …. Go To Article!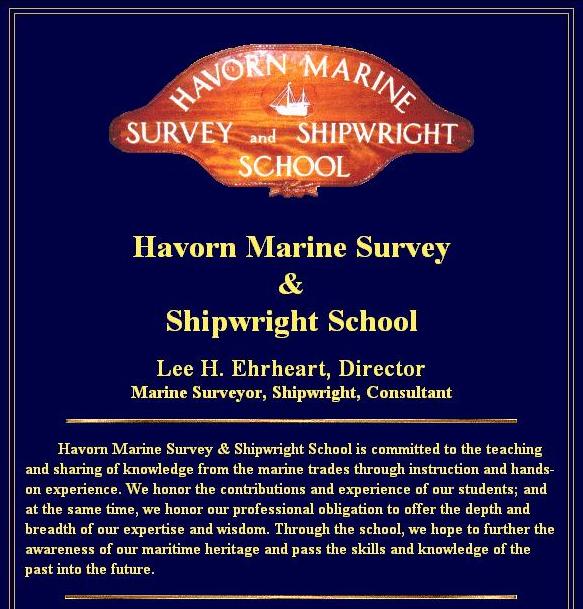 ---
On 28 September 2012, at approximately 0430 Pacific Daylight Time, the Canadian fishing vessel Viking Storm collided with the drifting American fishing vessel Maverick in thick fog, thirty nautical miles off La Push, Washington. The Maverick capsized and sank immediately after the impact; Three crew members on board survived and were rescued by the Viking Storm. The fourth crew member was never found and is presumed drowned. … Surprisingly, the Canadian Transportation Safety Board report does not mention the Viking Storm's speed as a cause or contributing factor. Apparently it's ok to run on autopilot at nearly full speed through thick fog at night without anyone in the wheelhouse. … Please comment… Go To Article!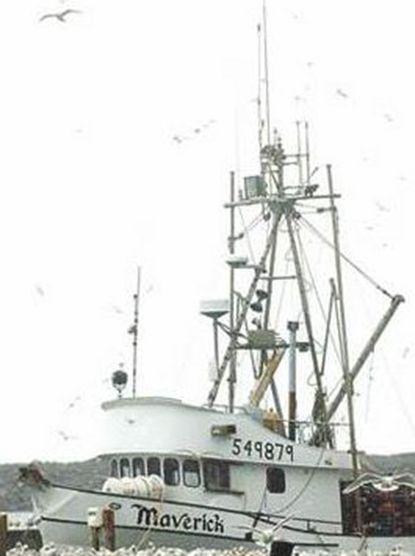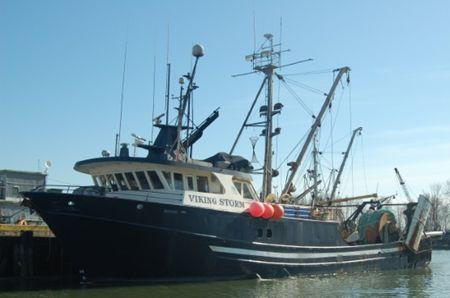 ---
Our BOAT TRAILER PLANS feature the most modern, up-to-date, and technologically advanced … to give you a boat trailer that's equal or superior to those you can buy. … Go To Article!
---
Sailors, yacht owners, and charterers will appreciate this hour long lesson in working aloft. Don't wait until an emergency to learn the proper safety routines and teamwork for climbing the mast. Get details on methods, and related knots, gear … Go To Article!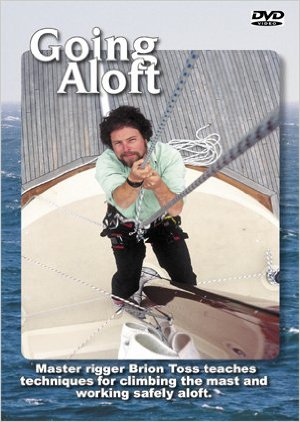 ---
Boats have a wide variety of shapes and sizes and construction methods due to their intended purpose, available materials or local traditions. … Go To Article!
---
Charles E. (Mac) McCurdy and his wife Toni founded the Des Moines Yacht Club in 1957 as the Vagabond Outboard Boating Club, with eight charter members. Waterfront property, approximately 50′ X 350′ was purchased late that year providing … Go To Article!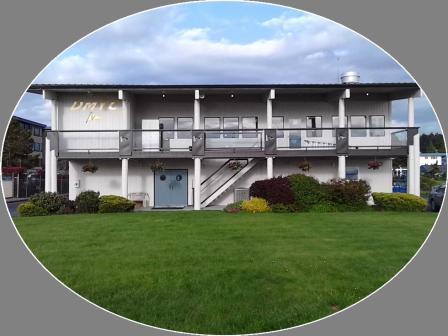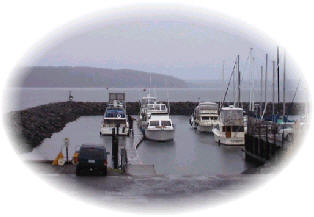 ---
The Cummins Engine Company was founded in 1919 by namesake Clessie Cummins, … History … Cummins first diesel was the 1.5 to 8 hp HVID … 60% of production in that first year was marine. … In 2002, Cummins entered into a 50/50 joint venture with Brunswick's Mercury Marine division … Cummins sells in approximately 190 countries and territories through a network of more than 600 company-owned and independent distributors and approximately 6,000 dealers. … Click on Model (Link) in engine specification table below to view Spec Sheet.  … Go To Article!
---
Modern vessels types are many, so they are first categorized by their general function (recreational, commercial fishing, passenger, cargo, warfare, enforcement, research, recovery,+). Recreational vessels are further grouped by … Go To Article!
---
The USCG produced the following handbooks to help recreational boaters and commercial fishermen comply with the Federal Requirements. … The Inland Navigation Rules (part of Navigation Rules – far right) must be carried on each self-propelled vessel 12 meters (39.37 feet) or more in length and 'readily' available …within 2 minutes of the need … Go To Article!

---
Nations around the world have developed statutes and regulations that effect boat construction, and the design and manufacture of boat equipment; and have participated in international conventions, treaties, and agreements that apply … Go To Article!
---
The USCG produced the following handbook to help boatbuilders comply with the Federal Requirements. Recreational boat owners, refitters and repairers will also benefit from the information contained in the handbook. … nearly 600 pages … FREE DOWNLOAD … Go To Article!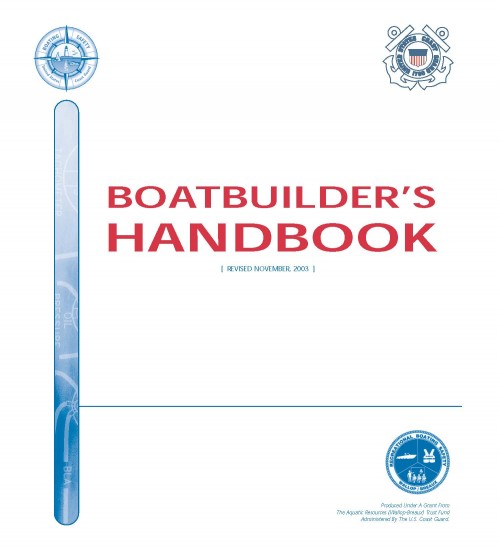 ---
Taking a Proper Engine Oil Sample for Analysis: Vacuum Extraction is the most recommended method of taking an oil sample if the engine is not equipped with an oil sampling probe valve. With vacuum extraction, a length of plastic tubing is inserted into the oil sump (usually down the dipstick tube/hole) about half way into the oil and the oil is drawn up the tube into the sample bottle by the vacuum created in the bottle by a hand operated vacuum pump. The equipment needed include … Step-by-step process, 1-12 … Precautions … Manuals and Videos … Go To Article!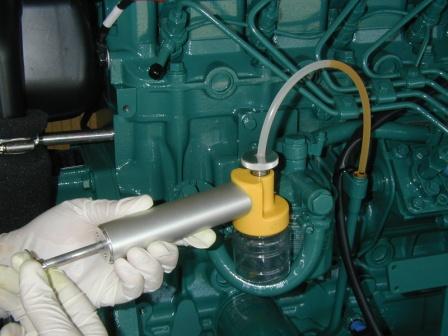 ---
ZF Marine was founded in 1915 in Friedrichshafen, Germany by Ferdinand von Zeppelin, to produce gears for Zeppelins and other airships. ZF is now the largest supplier of marine transmissions, propellers, surface drives, and controls in the world. … Click on Model (Link) in Marine Gear specification table below to view Spec Sheet. …Go To Article!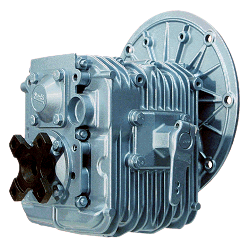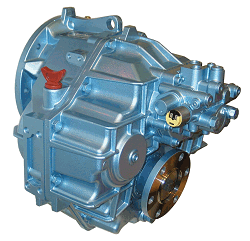 ---
Lynne Reister is an inspector of vessels no matter what the materials, size, or age. Looked to as a specialist in wooden vessels she is often sought for advise and service due to her willingness to help her clients.  Lynne is known for her thoroughness and …Go To Article!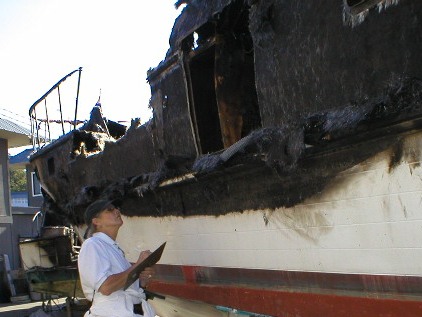 ---
Dock tragedy shows danger of fresh-water marinas: The danger of fatal electric shock in fresh water was all but unknown when an American child from Oregon, Lucas Ritz, just 10 at the time, was electrocuted …  Read Kevin Ritz's riveting story of his family who did everything right from a safety perspective, yet lost their son in a tragic incident. …  Multnomah County River Deputies … We found 13 boats leaking potentially lethal electrical current into the water. … Go To Article!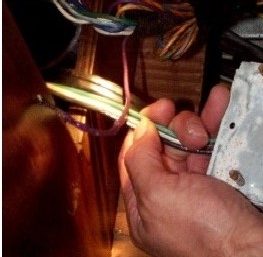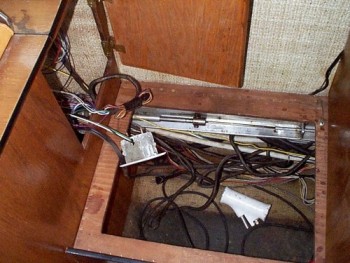 Overheated 12 volt DC wire laying on 120 volt AC wire – Melted insulation and shorted
---
Avoiding The Boatyard Blues: Costs And Fees: The next time you sit down with your boatyard manager to discuss a repair, maintenance, refit, or installation project, be prepared with a few questions …Go To Article!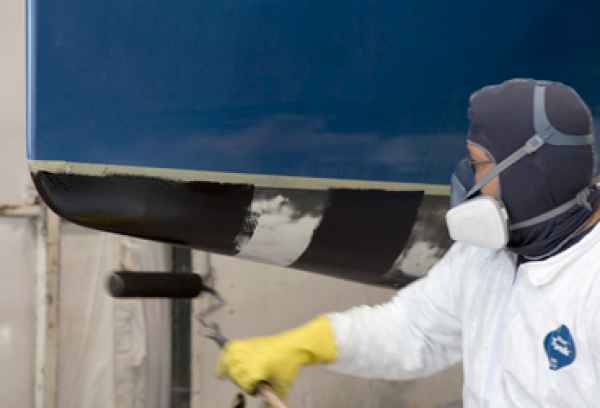 ---
Blue Creek Marina is located on beautiful Lake Martin in east central Alabama. Though it says marina in our name, the Blue Creek Marina experience is so much more. … Go To Article!
---
If there is anything on this webpage that needs fixing, please let us know via email To:
Editor♥EverythingAboutBoats.org (Replace "♥" with "@")
---
♥
---

Visit our FEATURED ARTICLES Home Page
to see examples of our website's comprehensive contents!
Thanks to our amazing contributors for the steady flow of articles, and to our dedicated all-volunteer staff who sort, polish and format them, everyday we get a little bit closer to our goal of
Everything About Boats. If you would like to submit an article,
See Submitting Articles.
— TOP 20 MOST POPULAR ARTICLES —
Ford Industrial Power Products Diesel Engines
How to Identify Ford Diesel Engines
Ford 2715E
Lehman Mfg. Co.
Detroit Diesel 8.2
Universal Atomic 4
Chrysler & Force Outboards
Eska Outboard Motors
Perkins Engines
ZF Friedrichshafen AG
Allison Transmission
American Marine Ltd (Grand Banks)
Boat Inspection
Types of Marine Surveys
Marine Surveyors by Country
Boat Builders By MIC
Beta Marine
Waterwitch
American Boat and Yacht Counsel (ABYC)
USCG NVIC 07-95 Guidance on Inspection, Repair and Maintenance of Wooden Hulls
---
What our nonprofit Anchors Aweigh Academy and its
EverythingAboutBoats.org website have accomplished so far.
Published over 300 website main topic webpages, many with full articles on the topic. See our Website Contents in the Right Sidebar for the listing of the main topic pages.
Published over 9,000 marine vendor webpages, all with their contact information, most with a description of their products and services, many with product documentation, specifications and independent reviews. (incl.: Boat designers, boat building tools, material and equipment manufacturers and suppliers, boat builders and dealers, yacht brokers, marine surveyors, boat insurers, boat transporters, skippers and crews, boatyards and marinas, yacht clubs, boat rentals and yacht charters, boating, seamanship and maritime schools, marine law attorneys and expert witnesses, boat refitters and repairers, book authors and publishers, and video producers)
Acquired over 120,000 pages of product documentation including Catalogs, Brochures, SpecSheets, Pictures, Serial Number Guides, Installation Manuals, OpManuals, Parts Schematics, Parts Bulletins, Shop Manuals, Wiring Diagrams, Service Bulletins, and Recalls. And have made all viewable to Academy Members through our EAB website.
Acquired over 1,200 books and magazine back issues in our academy library and so far have made over 700 viewable to Academy Members through our EAB website.
Published over 500 DIY How-To articles about boat design, construction, inspection, operation, maintenance, troubleshooting and repair. We are working hard to do more.
We are currently formatting and polishing the Anchors Aweigh Academy online and hands-on courses. Our Marine Surveying course has proven to be excellent for both the beginner and the seasoned surveyor, and especially helpful to the Do-It-Yourselfer.
---
Current Academy Members must SIGN IN to gain FULL access to this
website including expanded pages and valuable Academy programs
like our Academy Lending Library and our Ask-An-Expert Program!
If your membership has expired, CLICK HERE to Renew.
IF YOU ARE NOT YET AN ANCHORS AWEIGH ACADEMY MEMBER,
CLICK HERE to discover how you can become a Member and gain FULL access to
thousands of expanded pages and articles, and dozens of excellent programs
WITH JUST A SMALL DONATION!
♥
---
Comments for Public Viewing
Submit any comments for public viewing via email To: Comments♥EverthingAboutBoats.org (Replace "♥" with "@")
Please remember to put this webpage's title in the subject line of your email.
All comments are moderated before they appear on this page. See Comment Rules.
FROM Donald: "This is an awesome website. I found the information that I needed right away from one of the over 20,000 free articles that you provide as a public service. I'm surprised that so much if this site is free. But I still signed up so I could access the thousands of expanded pages, interesting articles, and dozens of valuable programs! The member's library of books, magazines and videos that I can view online is really terrific! I understand that you and your staff are all unpaid volunteers. Please keep up the good work. And I commend you for your plans to add another 10,000 free informative articles over the next year. I'm thrilled to support you in this endeavor with my small membership donation. Thanks again for all your hard work."
FROM Huey: "I agree with my Uncle, I too have found the articles to be very enlightening. They say that it will take about 100,000 articles to cover the full scope that they have envisioned for the website. They have over 20,000 articles so far and that's doing pretty well, but it could take several years to get the rest. I also noticed that many of the Main Topic Pages and some of the article pages are still in the rough draft stage. I guess that they will fill in as they can get volunteers to work on them. But what I can't figure out is why anyone would spend the time writing informative in depth articles just to give away free to this website for publication? What's in it for them?"
FROM Dewey: "Well Huey, to me It looks like most of the articles on this website are written by very informed people, like boating instructors, boat designers, boat builders, riggers, electricians, fitters, marine repair technicians and marine surveyors. Writing such articles helps establish them as knowledgeable professionals. After all, this website was originally created by a school for marine technicians and marine surveyors. The website is growing in content every day. They even had to move to a bigger, more powerful server because the website's traffic has been growing exponentially."
FROM Louie: "I agree with everyone above. This site is quickly becoming the ultimate reference resource about every aspect of boats and ships for everyone from the beginning recreational boater to the seasoned professional mariner. I use the topic pages on the right sidebar to browse around the website. It's like a Junior Woodchucks' Guidebook for Boaters. Their Members' Library of over 300 popular and obscure books and over 200 magazine back issues that can be viewed online is fabulous. The Academy's magazine is especially informative. On top of that, there is the "Ask-An-Expert program for members where you can get an expert's answer to any of your boat questions. And a whole years membership is only $25. What a deal! I really love being part of this "Everything About Boats" community and help provide thousands of helpful articles free to the public. I think that I'll sit down right now and write an article about my experiences boating with my uncle."
FROM Scrooge: "You rave about this website like it was the best thing since sliced bread. Well, I think it stinks. Sure, it has a lot of good information for boaters, and they're adding more every day, but it will probably never be finished. Furthermore, I don't even own a boat. And I wouldn't have a boat even if someone gave me one. Boats are a waste of money and time and energy and money! They're just a hole in the water you pour money into. If you gave me a boat, I'd sell it quicker then you could say Baggywrinkle. Then I'd lock up the cash with all my other money so I could keep my eye on it and count it every day. Bah humbug."
FROM Daisy: "I'm just so glad that Donald got the boat so we and the boys could enjoy boating — together. And of course all of the girls, April, May, and June, love to be on the water too, especially when that is where the boys are. Oh poor Scrooge, boating is more fun then you could possibly imagine."
FROM Scrooge: "After seeing how much fun you all have on the water together, I regret that I didn't have that much fun when I was young. I've had a change of heart, and I'm giving each of you a Lifetime Academy Membership."
FROM Editor: "For those of you that have stayed with us this far, many thanks. You inspire us to keep working on this phenomenal website. We know that we have a lot more to do. Ultimately, we hope that we can help you enjoy the wonder filled world of boating as much as we do. We are all waiting to see what you have to say about this webpage article. Submit any comments via email To⇒ Comments♥EverythingAboutBoats.org (Replace "♥" with "@"). Be sure to include this page's title in the subject line. Also, your corrections, updates, additions and suggestions are welcomed. Please submit them via email To: Editor♥EverythingAboutBoats.org (Replace "♥" with "@"). It has been truly amazing to see what we have been able to accomplished when we've worked together. Thanks to all those that have donated their valuable time and energy, and a special THANK YOU to all that have supported this cause with their membership donations."
♥