PATH: Boat Marketing » Boat Refitting & Repair > ?
---
FROM: http://www.cruisingworld.com/how/avoiding-boatyard-blues-costs-and-fees
MANAGING REFITS AND REPAIRS REQUIRES A HANDS-ON APPROACH FOR BOAT OWNERS, AND ACCURATE PRICE QUOTING IS AN ESSENTIAL ELEMENT OF THIS PROCESS.
BY Steve D'Antonio POSTED April 5, 2011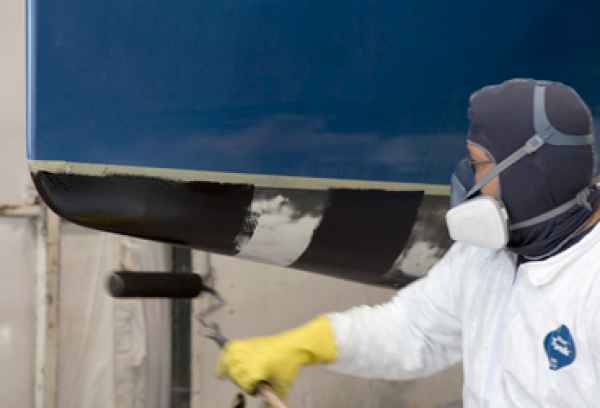 When you're working with a boatyard, jobs such as bottom painting and varnishing can usually be quoted. I've worked in the marine industry for 23 years as a mechanic, electrician, and boatyard manager, and I work now as a consultant for boat buyers and owners. Exposed to the inner workings of this somewhat enigmatic business, I've learned a few lessons. Chief among these is that when it comes to maintenance, repair, and other boatyard work, vessel owners should leave as little to chance as possible. Because the cost of boat ownership isn't likely to go down, and because a properly built and maintained vessel is one that's likely to bring you back to the dock at the end of the day, it pays for you to become and remain as involved as possible in refit, service, and repair projects.
When I converse with boat owners on the subject of their interaction with boatyards, the discussion invariably turns to cost or, more precisely, to the unpredictability of the cost of maintenance or repairs. On many occasions, I've heard boat owners say, "I take whatever the yard tells me about the cost and I triple it. Then I know what the job will really cost," or words to this effect. Having said that, I'm convinced that most boatyards and marine contractors aim to please, and they want their customers to return.
The solution to this problem, clearly, is to emulate other industries in providing boat owners with fixed-price quotes. A few months ago, I wrote a column on this very subject, imploring marine professionals to get savvy on the subject of quoting because it's likely that more and more owners will shun yards that can't offer this level of cost predictability. I strongly believe that this process, when adopted, will provide a sea change in the way the industry is perceived by consumers. Admittedly, it's not an easy leap to make; however, the rewards, in my experience, are undeniable.
T&M vs. Fixed Quote
I routinely hear the terms "time and materials" and "fixed quote" used within the industry, and when I do, I often suggest to my clients that they ask for clear definitions from the contractor. My definitions of these terms, while typical, are by no means codified within the industry, which is why you must ask for clarification, in writing, before committing to any work.
In most cases, when you cruise into a boatyard or work with a marine contractor—this can include anyone from engine mechanics and electronics techs to riggers and varnishers/painters; from here on, I'll simply refer to all folks carrying out work as "boatyards"—you may have a choice as to how the work will be invoiced. A common approach involves charging for the time that the project takes as well as for the cost of the materials, plus a reasonable markup for these materials.
When I managed boatyards, customers would occasionally ask what I paid for materials or what my "markup" was. While some yards are reticent about sharing this information, I was unabashed in my explanation; the markup on materials is part of the yard's overall profit plan, along with the markup on labor. Remember, the yard's goal is, understandably, to make a profit, and that's its incentive to work harder and smarter. Expect to pay the markup, provided that it's not exorbitant; it typically ranges from 10 percent to 40 percent, depending upon the product or part.
This concept—carrying out work and being paid for how long it takes, however long that may be; it's often referred to simply as T&M—has been around for many years, and it's well entrenched in the marine industry. Many boatyards prefer to work using this approach. When I discuss this concept with managers and yard owners, the refrains are familiar: "T&M is safe" or "We can't get burned because you really can never tell how long a repair or project is going to take." The notion is that most undertakings of the marine variety are such an incredible shot in the dark that no boatyard would dream of any billing approach other than T&M. With this approach, risk is minimized—to the boatyard. The boat owner really has no idea how much the project is going to cost, and in many cases, the boatyard doesn't know, either. Thankfully, an alternative exists: fixed-price quotes.
Quoting is just that, a quotation for a specific project, repair, refit, or upgrade, and it's a game changer to be sure, as it offers clear advantages both to you and to the boatyard. For you, the consumer, it affords you the opportunity to consider the proposal as well as compare it to those provided by others. You can also plan and budget for the project secure in the knowledge that the price is fixed.
When I hear that a boatyard won't quote a clearly quotable job, I have two thoughts. The first is that there's always a fear of the unknown, and most boatyards, when they do undertake quoting, are much better at it than they believe. It takes some practice, the implementation of a quoting program, and employee education; however, it's clearly doable. As I mentioned earlier, other industries use this format with great success, and the marine industry shouldn't be the exception. My second thought is that these folks do this work day in and day out, and they've done it for years. The collective wisdom of some yards is often vast and spans many decades. If they can't tell you how long it'll take and how much it'll cost to carry out routine projects, I'd question their ability to undertake the work altogether. Finally, based on my experience, when the folks carrying out the projects know it's quoted, they tend to work with a greater sense of urgency, particularly if management invests them in the quoting process, as it should.
Now that I've made the case for quoted rather than T&M projects, I must admit that not every job can be quoted. Mechanical and electrical troubleshooting, for instance, isn't the type of task that any experienced professional would or should quote; however, it does pay dividends for you to ensure that the folks carrying out the troubleshooting are experienced, well trained, and, where applicable, certified by the American Boat & Yacht Council, for electrical work in particular. In this case, efficiency rather than a fixed price is the goal. Small projects are also typically not quote-worthy. Remember, the yard has to spend time researching and preparing a quote; it makes little sense for this to be done on a job that may take fewer than eight to 10 hours or to cost less than $1,000.
Projects that do lend themselves to quoting are, among others, hull and deck painting, varnish, hardware and equipment installations, and complete vessel refits. Expect a reasonable number of caveats with any quote; however, when I wrote quotes, I was careful not to make too many exclusions, which negates the value of a quote. If a boatyard drills into your deck to install a radar mast or winch, and the bit pulls up sodden, rotten balsa core, expect the quote to be amended.
**
Good Communication Is Key**
There's an easy way to avoid misunderstandings and disputes, and it involves the simple act of placing all of your communication with a yard in writing. Avoid stopping yard employees midstride and verbally dictating work requests or modifications to current projects. You should only be making these requests to those who are authorized to take them—managers and service writers, for instance. Be sure to follow up the conversation with an email reiterating your thoughts.
If your vessel is in the midst of a refit or a major undertaking such as an engine replacement, rewiring, or paint job, it's reasonable to expect weekly updates. Smaller projects may require you to request an update. All reports and updates should be received in writing. You should also be made to feel welcome to visit the yard during any repair, refit, or service work.
However, be sure to remember that whether the project is quoted or T&M, time is always money, and if you stop in and chat with the folks who are doing the work, you're costing either them or yourself money. Thus, it's best to minimize the time you spend shooting the breeze with hourly folks. Managers, on the other hand, should give you as much face time as you need.
If scheduling is important to you—and it should be, because projects without schedules often languish—then you should have this discussion with a manager before making a commitment to proceed. Part of that discussion should include the yard's protocol for dealing with projects that fall behind schedule. There are few things worse, when dealing with a boatyard, than finding out on the day before your scheduled departure date that your boat won't be launched and commissioned anytime soon. Depending upon the size of the project, the yard should be able to give you ample warning when it appears that work won't be completed on time. The larger the project, the more notice you should be given.
Finally, for especially complex or large projects, you may wish to call on the consulting services of an independent expert, such as a surveyor, a naval architect, or a mechanic, who has no affiliation with the yard. Boatyards that are confident in their work should have no problem discussing a proposed project or having another professional inspect their work. Again, note that if you have any intention of doing this, it's worth discussing it before the project or repairs begin.
Steve D'Antonio offers services for boat owners and buyers through Steve D'Antonio Marine Consulting (www.stevedmarineconsulting.com).
Do Your Homework
The next time you sit down with your boatyard manager to discuss a repair, maintenance, refit, or installation project, be prepared with a few questions about the boatyard's pricing method.
Do you quote work, and if so, what are the terms of the quote? What's the yard's definition of a quote? Is the price fixed, or is it an estimate?
For projects that will be billed for time and materials, what's the material markup protocol?
Is the yard's workmanship guaranteed? What happens if I'm far away from the yard and someone else has to undertake repairs?
Will the work be carried out according to American Boat & Yacht Council standards? If so, are the folks doing the work A.B.Y.C. certified in the appropriate discipline (there are eight certifications) or supervised by those who are?
If the work is quoted, is it billed in segments as the work is carried out?
How often are invoices sent out? Can I call or email someone for an an up-to-the-minute progress report—or at least one that's complete through the previous work day—on the amount of work that's been finished or invoiced? Timely invoicing is important, particularly for T&M work. You definitely want to avoid being slammed with a huge invoice after the work on your boat is completed or nearly completed.
More from Cruising World     More from Avoiding the Boatyard Blues: Costs and Fees