---
Active and Inactive Members Click Here to Renew or Upgrade Membership.
---
Never been an Academy Member?
Instantly Access All Member Benefits by Donating Just $25
⇒ ⇒ ⇒ ⇒ ⇒ ⇒ CLICK HERE ⇐ ⇐ ⇐ ⇐ ⇐ ⇐
A Simple and Secure Window will appear for an Annual Membership.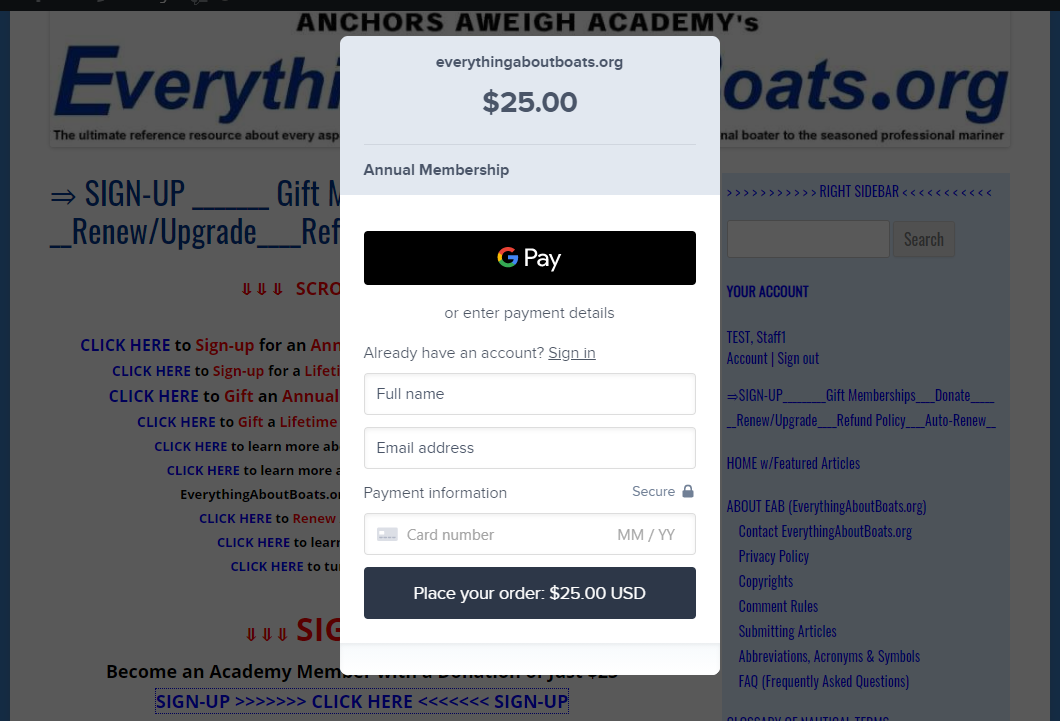 Use any major credit card or debit card OR click "G Pay" to use Google Pay
OR EVEN BETTER
Become a LIFETIME Academy Member with
Full Member Benefits by Donating just $100
⇒ ⇒ ⇒ ⇒ ⇒ ⇒ CLICK HERE ⇐ ⇐ ⇐ ⇐ ⇐ ⇐
Lifetime memberships help Anchors Aweigh Academy grow
EverythingAboutBoats.org content even faster.
---
DO YOU HAVE A GOOD FRIEND, LOYAL CO-WORKER, OR
SPECIAL LOVED-ONE WITH AN INTEREST IN BOATS AND BOATING?
Consider giving them the unique gift of an Academy Membership.
Gift a One-Year Academy Membership with a Donation of just $25
⇒ ⇒ ⇒ ⇒ ⇒ ⇒ CLICK HERE ⇐ ⇐ ⇐ ⇐ ⇐ ⇐
OR EVEN BETTER
Gift a LIFETIME Academy Membership with a Donation of just $100
⇒ ⇒ ⇒ ⇒ ⇒ ⇒ CLICK HERE ⇐ ⇐ ⇐ ⇐ ⇐ ⇐
Members often promote and support EAB by gifting memberships.
♣
If you have any problems Signing-Up or Gifting, please let us know right away via email To: Editor♣EverythingAboutBoats.org (Replace "♣" with "@")
Depending on your browser,
you may need to reload any open pages to reveal MEMBERS ONLY content.
♣
 Besides helping us provide more then 50,000 informative webpage articles on this website for all to view as a public service
Academy Members Gain Access to:
Hundreds of Academy Resources* including: Academy Members' Reviews, Articles, Comments and Peer Reviews, Reviews of Vendors, In-Depth Reviews of Boats, Equipment, & Tools, Practical "How-To" Articles from our on-line magazine The ANCHOR, popular and obscure Books, Magazines, & Videos  from our Academy eLibrary, discounted Academy "How-To" Courses about boat construction, inspection, operation, maintenance, troubleshooting and repair, our Posting Page for your Classified Ads (that everyone may view), our very popular "Ask An Expert" program AND Much, Much More!
*Not all of the webpages and programs are fully developed.
But thanks to our members' support, our volunteers are completing more every day.
CLICK HERE to learn more about Anchors Aweigh Academy and EverythingAboutBoats.org.
Consider Making a Donation of a Boat or Equipment for Teaching Aids.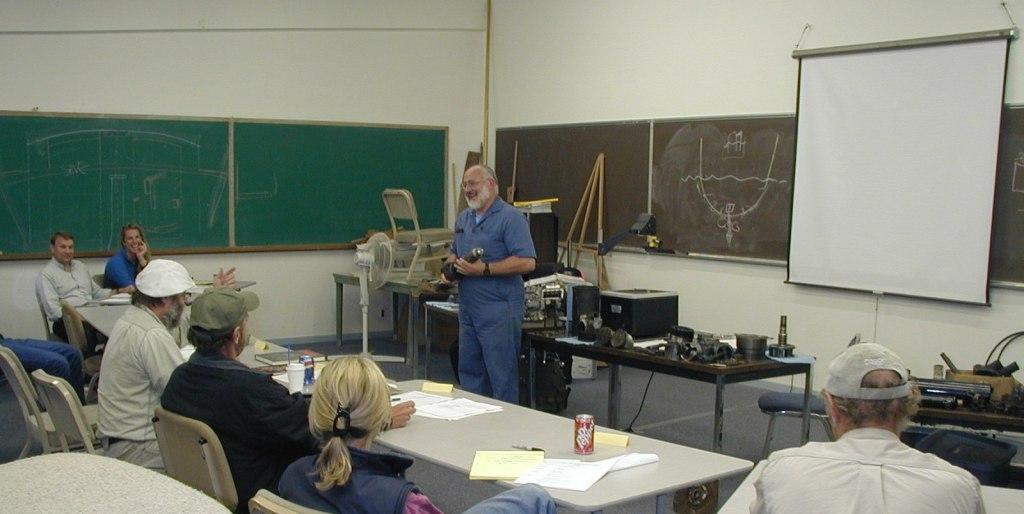 Our popular Diesel Engine Troubleshooting and Repair Workshop presented by Larry Blais,
hosted by The Northwest School of Wooden Boatbuilding near Port Townsend, and
co-sponsored by Anchors Aweigh Academy and NOAA's Washington Sea Grant.
(Washington Sea Grant is part of the National Oceanic and Atmospheric Administration's
National Sea Grant College Program and is based at the University of Washington)
ACADEMY MEMBERSHIPS
CLICK HERE for $25 Annual — CLICK HERE for $100 Lifetime
CLICK HERE to Gift Memberships — CLICK HERE to Renew or Upgrade
---
Refund Policy
If you request that we cancel your membership within the first 30 days of
your membership and you have not benefitted from the Academy eLibrary or
the "Ask an Expert" program, we will honor your request and order a full refund
of your membership donation (even though it costs us refund service fees
which of course ultimately come out of the donations made by others).
Please make your request via email To:
Editor♣EverythingAboutBoats.org (Replace "♣" with "@")
In hardship cases such as illness or death, please request a
prorated refund at anytime during the membership via email To:
Editor♣EverythingAboutBoats.org (Replace "♣" with "@")
---
Auto-Renew
Annual Memberships initiated after June 1, 2021 do NOT initially renew automatically. Many members find it more convenient to activate "Auto-Renew" then to renew manually each year. See Turn "Auto-Renew" ON below.
Annual memberships initiated before June 1, 2021 were initially set to renew automatically. If your account has been set to "Auto-Renew" and you would rather renew manually or you do not wish to renew your membership, turn "Auto-Renew" OFF before your membership renews.
To Turn Auto-Renew ON or OFF
Sign-in, then click on "Account" under your name near the top of the Right Sidebar,
then click "Subscription", and when that window opens, click "Turn ON Auto-Renew"
or "Turn OFF Auto-Renew", and finally confirm by clicking "Yes".
♣
ACADEMY MEMBERSHIPS
CLICK HERE for $25 Annual — CLICK HERE for $100 Lifetime
CLICK HERE to Gift Memberships — CLICK HERE to Renew or Upgrade
If you encounter any problems Signing-Up, Gifting, Renewing or turning
"Auto-Renew" ON or OFF, please let us know right away via email To:
Editor♣EverythingAboutBoats.org (Replace "♣" with "@")
---
EVERYTHING ON THIS PAGE OK?
If there is anything on this webpage that needs fixing, please let us know via email To:
Editor♣EverythingAboutBoats.org (Replace "♣" with "@")