---
PAGE CONTENTS
1 – +
2 – +
NOTES: Page under Development
---
+
PIX of Cummins V-555
Cummins developed the 555 cubic inch displacement V-555 (Triple Nickel) V8 engine. Like other small V8 Diesel engines, it proved to be a trouble-plagued engine especially in marine service.
+
+
Unfortunately, the V-555 suffers from a "weak bottom end". Reports of "broken cranks", "spun bearings" and "thrown rods" NOT caused by "Hydrolocking" are far too frequent. This weakness, however is common of most smaller "V" cylinder configuration engines, especially those with cylinder bores less then 5 inches (127mm) and is due to the overall shortness of the crankshaft. With twice as many pistons connected to a V8 crankshaft which is typically only slightly longer then an inline 4-cylinder crankshaft, there just isn't much room for the connecting rod bearings, the crankshaft main bearings, and the crank webs. Consequently these bearings and webs must be narrower as graphically shown in the picture directly below of a samll V8 crankshaft. Unfortunately, in the case of slipping type bearings such as crankshaft bearings, the narrower the bearings, the more difficult it is maintain an adequate lubricating oil film in the bearings to support the heavy loads of a high compression diesel engine especially under load at higher RPM's.
Even though the connecting rod pins on a V8 crank are the widest journals on the crank, when assembled the V8 crank will have two connecting rods crowded onto each rod journal leaving little room for each individual rod bearing.
In the picture second above and the illustration below, it is easy to see how narrow the rod bearings have to be. Note the two oil feed holes per rod journal (one for each connecting rod. In a fully pressurized lubrication system, the oil is fed to the center of each bearing so that it can form an oil film between the crankshaft journal and the bearing surfaces, as it works its way to the outer edges of the bearing where it squirts out and splatters around the crankcase as the crankshaft turns. Oil tends to exit narrow bearings much more quickly. The wider the bearings, the more oil they can hold longer between the metal surfaces of the crankshaft and bearings, hence wide bearings can carry higher loads. The larger the cylinder bores, the longer the crankshaft and therefore the more room available for wider bearings. V8 engines with cylinder bores larger then 6″ typically have plenty of room on the longer crankshaft for bearings, etc.
Note how narrow the five main bearing journals are especially when compared with the 4-cylinder crankshaft below. They will be discussed in more detail a little later.
Another issue with any small V8 crankshaft is the narrow crank webs which are much weaker and consequently much more prone to breakage as shown below.
By comparison, the inline 4-cylinder crankshaft below which will have only one rod fitted per journal when assembled will have much wider rod bearings. Note the much wider main bearing journals which will accommodate much wider main bearings. Also note the wider and much stronger crank webs between the bearing journals.
The inline 4-cylinder crankshaft shown above has 5 main bearings. The crank webs, and the width and diameter of the main and rod bearings have been optimized to carry the stress and load of a high compression, high output engine. By comparison, the V8 crankshaft has the same number of main bearings for twice as many cylinders, and the V8 main bearing journals are much narrower. You can see how crowded a small V8 crankcase can be in the picture directly below. There just isn't enough room for rod bearings or main bearings to be wide enough to carry the heavy loads generated by a high compression high output engine.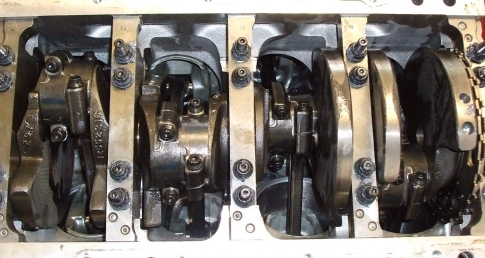 Notice that the main bearing journals of the V8 crankshafts shown in the illustration and pictures above have been increased in diameter to increase the bearing surface in an effort to compensate for their narrowness. But at some point this becomes counter-productive because the increased diameter increases the slip-bearing surface speed which makes it more difficult for the oil to maintain adequate oil film thickness at higher RPM's. By comparison, a 4-cylinder crank's main bearings can be wider so they can more easily maintain oil film thickness and carry the loads, hence the journals can be smaller in diameter to reduce bearing surface speed. This is why inline engines with the wider bearings and stronger crank webs, and main bearings between each cylinder can be air charged (e.g. with a turbocharger) to reliably produce more than twice the horsepower per unit of displacement then a small V8. Air-charging these stronger inline diesel engines can also enable them to run cleaner with fewer emissions.
Engines with longer piston strokes have the advantage of typically producing much higher torque at slower crankshaft speeds (RPMs). Many small V8 engines are designed with a stroke much shorter then most other diesel engines of this displacement. It is just slightly "under-square" with a 108mm bore x 112mm stroke. Besides allowing the engine height to be lower, the shorter stroke also has the advantage of reducing the load on the "bottom end". Unfortunately, any of these short stroke, nearly-square and over-square engines produce less torque and have to be set-up to run at higher RPM's to produce their maximum power, which is limited by their increased crankshaft slip-bearing surface speeds. Unfortunately, as bearing surface speed increases, bearing wear increases and so does the risk of bearing failure.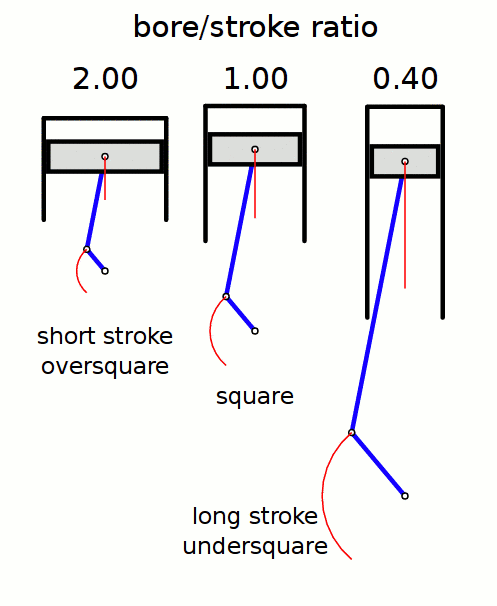 In conclusion
The above comparisons show why smaller V8 engines that lack the space for the wider crankshaft bearings and stronger crank webs are not capable of the higher power outputs of comparable displacement inline engines. These are some of the main reasons why most diesel engine manufacturers have abandoned building small V8 engines and have embraced inline configurations especially the turbocharged 6 cylinder inline with 7 main bearings such as the Cummins B and C series engines. In the case of V8 engines with bores larger than 5 inches (127mm), they are longer and therefore have more room for wider crankshaft bearings and stronger crank webs which means that they can have much stronger "bottom ends" and therefore higher power outputs  per displacement unit then their smaller, shorter, and weaker little brothers.
+
During the 1970's fuel crisis, Detroit Diesel saw the need for a cheap, fuel efficient engine to power medium trucks and school busses. Their answer was a lightweight, slightly under-square (108mm bore x 112mm stroke) 500 cubic inch displacement, four-stroke-cycle V8 diesel engine called the 8.2 Litre. The engine was eventually marinized by a few third-party companies (¿including Johnson & Towers?) and fitted to vessels, but they proved to be quite troublesome as they were prone to head gasket problems due to the lack of a proper 'deck' for the the head, and bearing failures due to a weak "bottom end".
Cummins developed the 555 cubic inch displacement V-555 (Triple Nickel) engine to fill the same market, but it proved to have a weak "bottom end" as well. Caterpillar had came out with the 1100 medium truck engine in the 1960's which became the 3160 marine engine. It was a larger V8 engine at 636 cubic inches of displacement, but like it's other V8 rivals, it suffered from weak "bottom end" problems also. In marine use, it also suffered from a design flaw of the camshaft driven gear that sometimes resulted in the gear spinning on the camshaft during a prop-strike. When Caterpillar came out with the 3160's successor, the 3208, they improved the strength of the "bottom end", but like the 3160 it still had the camshaft gear flaw.
+
---
Literature and Manuals
---
Forum Posts
+
---
Tech Tips
---
Tech Notes
+
---
Related AEABoats Webpages
+
~Engines with Inherently Weak "Bottom Ends"
+
---
Related Articles
+
---
Related Books
+
*Book is currently part of our members' Lending Library. To view the entire book, click on the book's Title above to go to the book's AEABoats webpage and then Click the "Library" link.
If you would like to donate a book to our Lending Library, please email Donations@AnchorsAweighAcademy.org to arrange.
---
Related Magazines
+
---
Related Videos
+
---
Related Websites
+
---
Page still under development.
If you would like us to add a particular book, magazine, video, website, etc. to this page,
just mention it in the Comment Box below.
---
Contact Information
Detroit Diesel > 2-Stroke-Cycle > MTU'?? & 4-Stroke-Cycle > Daimler"?? (8.2 orphaned)
+
---
---
♥
---

Visit our FEATURED ARTICLES Home Page
to see examples of our website's comprehensive contents!
Thanks to our amazing contributors for the steady flow of articles, and to our dedicated all-volunteer staff who sort, polish and format them, everyday we get a little bit closer to our goal of
presenting Everything About Boats. If you would like to submit an article,
see Submitting Articles.
— 
TOP 20 MOST POPULAR ARTICLES

 —
---
What our nonprofit Anchors Aweigh Academy and its EverythingAboutBoats.org website have accomplished so far.
Published over 300 website main topic webpages, many with full articles on the topic. See our Website Contents in the Right Sidebar for the listing of the main topic pages.
Published over 9,000 marine vendor webpages, all with their contact information, most with a description of their products and services, many with product documentation, specifications and independent reviews. (Includes: Boat designers, boat building tools, material and equipment manufacturers and suppliers, boat builders and dealers, yacht brokers, marine surveyors, boat insurers, boat transporters, skippers and crews, boatyards and marinas, yacht clubs, boat rentals and yacht charters, boating, seamanship and maritime schools, marine law attorneys and expert witnesses, boat refitters and repairers, book authors and publishers, and video producers)
Acquired over 120,000 pages of product documentation including Catalogs, Brochures, SpecSheets, Pictures, Serial Number Guides, Installation Manuals, OpManuals, Parts Schematics, Parts Bulletins, Shop Manuals, Wiring Diagrams, Service Bulletins, and Recalls. And have made all viewable to academy members through the EAB website.
Acquired over 1,200 books and magazine back issues in our academy library and so far have made over 700 viewable to academy members through the EAB website.
Published over 500 DIY How-To articles about boat design, construction, inspection, operation, maintenance, troubleshooting and repair. We are working hard to do more.
We are currently formatting and polishing the Anchors Aweigh Academy online and hands-on courses. The Marine Surveying course has proven to be excellent for both the beginner and the seasoned surveyor, and especially helpful to the Do-It-Yourselfer.
---
Current Academy Members must SIGN IN to gain FULL access
to this website including the Members' Comments & Reviews!
If your membership has expired, CLICK HERE to Renew.
IF YOU ARE NOT YET AN ACADEMY MEMBER,
CLICK HERE to discover how you can become a Member and gain FULL access to
thousands of expanded pages and articles, and dozens of excellent programs
WITH JUST A SMALL DONATION!
Thank you for your support. You make this website possible.
♥
---
Comments for Public Viewing
Submit any comments for public viewing via email
To⇒Comments@EverthingAboutBoats.org
Please remember to put this webpage's title in the subject line of your email.
All comments are moderated before they appear on this page. See Comment Rules.
FROM Donald: "This is an awesome website. I found the information that I needed right away from one of the over 10,000 free articles that you provide as a public service. I'm surprised that so much if this site is free. But I still signed up so I could access the thousands of expanded pages, interesting articles, and dozens of valuable programs! The member's library of books, magazines and videos that I can view online is really terrific! I understand that you and your staff are all unpaid volunteers. Please keep up the good work. And I commend you for your plans to add another 10,000 free informative articles over the next year. I'm thrilled to support you in this endeavor with my small membership donation. Thanks again for all your hard work."
FROM Huey: "I agree with my Uncle, I too have found the articles to be very enlightening. They say that it will take about 50,000 articles to cover the full scope that they have envisioned for the website. They have over 10,000 articles so far and that's doing pretty well, but it could take several years to get the rest. I also noticed that many of the Main Topic Pages and some of the article pages are still in the rough draft stage. I guess that they will fill in as they can get volunteers to work on them. But what I can't figure out is why anyone would spend the time writing informative in depth articles just to give away free to this website for publication? What's in it for them?"
FROM Dewey: "Well Huey, to me It looks like most of the articles on this website are written by very informed people, like boating instructors, boat designers, boat builders, riggers, electricians, fitters, marine repair technicians and marine surveyors. Writing such articles helps establish them as knowledgeable professionals. After all, this website was originally created by a school for marine technicians and marine surveyors. The website is growing in content every day. They even had to move to a bigger, more powerful server on October 15, 2018 because the website's traffic has been growing exponentially."
FROM Louie: "I agree with everyone above. This site is quickly becoming the ultimate reference resource about every aspect of boats and ships for everyone from the beginning recreational boater to the seasoned professional mariner. I use the topic pages on the right sidebar to browse around the website. It's like a Junior Woodchucks' Guidebook for Boaters. Their Members' Library of over 300 popular and obscure books and over 200 magazine back issues that can be viewed online is fabulous. The Academy's magazine is especially informative. On top of that, there is the "Ask-An-Expert program for members where you can get an expert's answer to any of your boat questions. And a whole years membership is only $25. What a deal! I really love being part of this "Everything About Boats" community and help provide thousands of helpful articles free to the public. I think that I'll sit down right now and write an article about my experiences boating with my uncle."
FROM Scrooge: "You rave about this website like it was the best thing since sliced bread. Well, I think it stinks. Sure, it has a lot of good information for boaters, and they're adding more every day, but it will probably never be finished. Furthermore, I don't even own a boat. And I wouldn't have a boat even if someone gave me one. Boats are a waste of money and time and energy and money! They're just a hole in the water you pour money into. If you gave me a boat, I'd sell it quicker then you could say Baggywrinkle. Then I'd lock up the cash with all my other money so I could keep my eye on it and count it every day. Bah humbug."
FROM Daisy: "I'm just so glad that Donald got the boat so we and the boys could enjoy boating — together. And of course all of the girls, April, May, and June, love to be on the water too, especially when that is where the boys are. Oh poor Scrooge, boating is more fun then you could possibly imagine."
FROM Scrooge: "After seeing how much fun you all have on the water together, I regret that I didn't have that much fun when I was young. I've had a change of heart, and I'm giving each of you a Lifetime Academy Membership."
FROM Editor: "For those of you that have stayed with us this far, Thanks. You inspire us to keep working on this labor of love. We know that we have a lot more to do. Ultimately, we hope that we can help you enjoy the wonder filled world of boating as much as we do. We are all waiting to see what you have to say about this webpage article. And we assure you, your corrections, updates, additions and suggestions are welcomed. Let's work together on this." ♥
Academy Members' Comments & Reviews
♥ Academy Members must be signed in to post and view ♥