PATH: Contents » Media » Authors » Don Casey »
PATH: Contents » Media » Books »
PATH: Contents » TOPIC »
---
PAGE CONTENTS:
Overview.
Current members may view this book in our Library.
Editorial Reviews.
Product Details.
About the Author. Contact Information. Other Products, etc.
Related EAB Main Topic Pages with Links.
Visit our FEATURED ARTICLES Home Page! Thanks to our amazing contributors.
This Months Top 20 Most Popular Articles on our EAB Website.
Members must SIGN IN to gain access to Members Only areas of this website.
Become an Academy Member and gain access to additional pages and programs!
Comments for everyone to view: Submit to Comments@EverythingAboutBoats.org.
Academy Members' Comments & Reviews that only current Academy Members can view.
Academy Members' Exclusive Comment Submission Box.
NOTES: This page is pretty much finished. ♥ If anything needs fixing, please let us know via email to⇒Editor@EverythingAboutBoats.org

---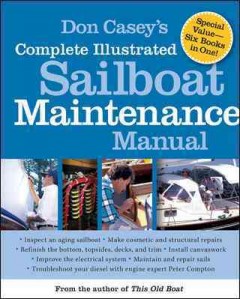 Don Casey's Complete Illustrated Sailboat Maintenance Manual combines six core volumes into a single, utterly dependable resource that answers every frequent question, explains every major system, and helps you keep your boat and its components shipshape.
CONTENTS:
Introduction 6(1) Surveying a Boat for Purchase 6(1) Determining the Needs of Your Own Boat 7(1) Hull 8(22) Fair and True? 10(3) Signs of Stress or Trauma 13(2) Delamination 15(1) Gelcoat Problems 16(1) Blisters 17(2) Moisture Content 19(1) Keel 20(4) Rudder 24(3) Cutless Bearing and Propeller 27(2) Through-Hull Fittings 29(1) Deck 30(18) Hull-to-Deck Joint 32(3) Surface Damage 35(2) Nonskid 37(1) Core Problems 37(2) Hatches 39(3) Portlights 42(1) Deck Hardware 43(4) Canvas 47(1) Rig 48(20) Mast and Boom 50(3) Step 53(2) Cap 55(3) Spreaders 58(2) Goosenecks, Sheets, and Vangs 60(1) Stays and Shrouds 60(6) Roller Furling 66(1) Sails 67(1) Interior 68(18) Bulkhead Attachment 70(1) Stringers and Floors 71(1) Interior Pans 72(1) Distortion 73(1) Signs of Leakage 74(1) Tankage 75(1) Head 76(2) Galley 78(2) Seacocks 80(2) Bilge Pumps 82(1) Comfort and Safety 83(2) Decor 85(1) Engine and Steering 86(16) Engine Access 88(1) Visual Clues 89(3) Mounting and Alignment 92(1) Stuffing Box 93(1) Exhaust Smoke 94(1) Running the Engine 95(2) Oil 97(1) Steering Gear 98(4) Electrical System 102(12) Battery 104(2) Breaker Panel 106(1) Wire and Connectors 107(2) Alternator 109(1) Pumps and Motors 110(1) Lights 111(1) Electronics 112(2) Other Considerations 114(10) Design 116(1) Reputation 117(1) Performance 117(3) Accommodations 120(1) Equipment 121(2) Value 123(1) Boat-Buyer's 30-Minute Survey 124(13) Hull 126(2) Deck 128(2) Rig 130(2) Below 132(4) Impression 136(1) Appendix: Hiring a Professional 137
from McGrawHill
The definitive guide from the world's best-known sailboat maintenance expert
VALUABLE TIP: This book is actually made up of five of his earlier published books, plus one book by Peter Compton, all combined (verbatim) into a single publication.
If you have this one book, Don Casey's Complete Illustrated Sailboat Maintenance Manual, you will be duplicating what is in it by getting any of the others listed above and vise versa.
Don Casey's Complete Illustrated Sailboat Maintenance Manual combines six core volumes into a single, utterly dependable resource that answers every frequent question, explains every major system, and helps you keep your boat and its components shipshape.
More than 2,500 clear and detailed illustrations guide you step by step through every procedure. Casey's technical virtuosity, his user-friendly explanations, and Peter Compton's diesel engine expertise make even the more complicated repairs and improvements easy to understand. This must-have guide saves you time, money, and grief as you learn the fastest, easiest, most effective ways to:
Evaluate the condition of your boat or one you're about to purchase
Repair structural damage to your fiberglass sailboat
Improve or repair your sailboat's electrical system
Troubleshoot, maintain, and repair your boat's diesel engine
Put a professional-looking finish on your boat's hull, deck, spars, wood, and trim
Make and repair sails, sail covers, dodgers, awnings, sailbags, and bimini tops
---
THE ACADEMY LIBRARY
Academy Members may view and download a higher resolution
version of the above media.
FIRST
CLICK HERE — TO SIGN-IN, IF YOU AREN'T ALREADY.
NEXT
CLICK HERE — TO RETRIEVE YOUR CURRENT ACADEMY LIBRARY PASSWORD.
COPY — the password when it is revealed in its own window.
THEN
CLICK HERE — to open the Academy's copy in its own PDF viewer window.
PASTE — the password when prompted in the viewer's password window and
click "OK" — to finish loading the document into the PDF viewer.
IF YOU ARE NOT YET AN ACADEMY MEMBER,
CLICK HERE to discover how you can become a Member and gain FULL access to
thousands of expanded pages and dozens of excellent programs including our library!
CLICK HERE to view ALL the books, magazines, videos, etc. in our Academy Library.
Media are also listed by category on the Topic Pages found on the Right Sidebar ⇒
CLICK HERE to donate any books, magazines or videos, etc. to our Library.
---
Editorial Reviews
"Astoundingly clear text and line drawing illustrations. The reader can almost feel the hand-holding this book provides through each step of a repair."—Dockside
Product Details
Hardcover: 896 pages
Publisher: Camden, Me. :International Marine/McGraw-Hill, c2006
Publisher: International Marine/Ragged Mountain Press; 1 edition (October 6, 2005)
Language: English
ISBN-10: 0071462848
ISBN-13: 978-0071462846
Product Dimensions: 7.6 x 1.6 x 9.4 inches
Shipping Weight: 4.2 pounds
Branch Call Number: 623.822302 CAS
Book's webpage at Amazon.com
---
The Creators
Click Link(s) below for more about the Creators (Authors, Editors, Publishers,
Producers, etc.) including their Contact Information and their other products.
Please do not try to contact any of the vendors on this website via our EverythingAboutBoats.org Email or Comment systems (Comment Rule #9). Your message will be moderated and trashed.
Please contact them directly.
EverythingAboutBoats.org
Related Main Topic Pages w/Links
All Website Main Topic Pages are listed in the Right Sidebar ⇒
---
If there is anything on this webpage that needs fixing, please let us know via email
To⇒Editor@EverythingAboutBoats.org
---
♥
---

Visit our FEATURED ARTICLES Home Page
to see examples of our website's comprehensive contents!
Thanks to our amazing contributors for the steady flow of articles, and to our dedicated all-volunteer staff who sort, polish and format them, everyday we get a little bit closer to our goal of
Everything About Boats. If you would like to submit an article,
see Submitting Articles.
— 
TOP 20 MOST POPULAR ARTICLES

 —
---
What our nonprofit Anchors Aweigh Academy and its
EverythingAboutBoats.org website have accomplished so far.
Published over 300 website main topic webpages, many with full articles on the topic. See our Website Contents in the Right Sidebar for the listing of the main topic pages.
Published over 9,000 marine vendor webpages, all with their contact information, most with a description of their products and services, many with product documentation, specifications and independent reviews. (Includes: Boat designers, boat building tools, material and equipment manufacturers and suppliers, boat builders and dealers, yacht brokers, marine surveyors, boat insurers, boat transporters, skippers and crews, boatyards and marinas, yacht clubs, boat rentals and yacht charters, boating, seamanship and maritime schools, marine law attorneys and expert witnesses, boat refitters and repairers, book authors and publishers, and video producers)
Acquired over 120,000 pages of product documentation including Catalogs, Brochures, SpecSheets, Pictures, Serial Number Guides, Installation Manuals, OpManuals, Parts Schematics, Parts Bulletins, Shop Manuals, Wiring Diagrams, Service Bulletins, and Recalls. And have made all viewable to academy members through the EAB website.
Acquired over 1,200 books and magazine back issues in our academy library and so far have made over 700 viewable to academy members through the EAB website.
Published over 500 DIY How-To articles about boat design, construction, inspection, operation, maintenance, troubleshooting and repair. We are working hard to do more.
We are currently formatting and polishing the Anchors Aweigh Academy online and hands-on courses. The Marine Surveying course has proven to be excellent for both the beginner and the seasoned surveyor, and especially helpful to the Do-It-Yourselfer.
---
Current Academy Members must SIGN IN to gain FULL access to this
website including expanded pages and valuable Academy programs
like our Academy Lending Library and our Ask-An-Expert Program!
If your membership has expired, CLICK HERE to Renew.
IF YOU ARE NOT YET AN ACADEMY MEMBER,
CLICK HERE to discover how you can become a Member and gain FULL access to
thousands of expanded pages and articles, and dozens of excellent programs
WITH JUST A SMALL DONATION!
Thank you for your support. You make this website possible.
♥
---
Comments for Public Viewing
Submit any comments for public viewing via email
To⇒Comments@EverthingAboutBoats.org
Please remember to put this webpage's title in the subject line of your email.
All comments are moderated before they appear on this page. See Comment Rules.
FROM Donald: "This is an awesome website. I found the information that I needed right away from one of the over 20,000 free articles that you provide as a public service. I'm surprised that so much if this site is free. But I still signed up so I could access the thousands of expanded pages, interesting articles, and dozens of valuable programs! The member's library of books, magazines and videos that I can view online is really terrific! I understand that you and your staff are all unpaid volunteers. Please keep up the good work. And I commend you for your plans to add another 10,000 free informative articles over the next year. I'm thrilled to support you in this endeavor with my small membership donation. Thanks again for all your hard work."
FROM Huey: "I agree with my Uncle, I too have found the articles to be very enlightening. They say that it will take about 100,000 articles to cover the full scope that they have envisioned for the website. They have over 20,000 articles so far and that's doing pretty well, but it could take several years to get the rest. I also noticed that many of the Main Topic Pages and some of the article pages are still in the rough draft stage. I guess that they will fill in as they can get volunteers to work on them. But what I can't figure out is why anyone would spend the time writing informative in depth articles just to give away free to this website for publication? What's in it for them?"
FROM Dewey: "Well Huey, to me It looks like most of the articles on this website are written by very informed people, like boating instructors, boat designers, boat builders, riggers, electricians, fitters, marine repair technicians and marine surveyors. Writing such articles helps establish them as knowledgeable professionals. After all, this website was originally created by a school for marine technicians and marine surveyors. The website is growing in content every day. They even had to move to a bigger, more powerful server because the website's traffic has been growing exponentially."
FROM Louie: "I agree with everyone above. This site is quickly becoming the ultimate reference resource about every aspect of boats and ships for everyone from the beginning recreational boater to the seasoned professional mariner. I use the topic pages on the right sidebar to browse around the website. It's like a Junior Woodchucks' Guidebook for Boaters. Their Members' Library of over 300 popular and obscure books and over 200 magazine back issues that can be viewed online is fabulous. The Academy's magazine is especially informative. On top of that, there is the "Ask-An-Expert program for members where you can get an expert's answer to any of your boat questions. And a whole years membership is only $25. What a deal! I really love being part of this "Everything About Boats" community and help provide thousands of helpful articles free to the public. I think that I'll sit down right now and write an article about my experiences boating with my uncle."
FROM Scrooge: "You rave about this website like it was the best thing since sliced bread. Well, I think it stinks. Sure, it has a lot of good information for boaters, and they're adding more every day, but it will probably never be finished. Furthermore, I don't even own a boat. And I wouldn't have a boat even if someone gave me one. Boats are a waste of money and time and energy and money! They're just a hole in the water you pour money into. If you gave me a boat, I'd sell it quicker then you could say Baggywrinkle. Then I'd lock up the cash with all my other money so I could keep my eye on it and count it every day. Bah humbug."
FROM Daisy: "I'm just so glad that Donald got the boat so we and the boys could enjoy boating — together. And of course all of the girls, April, May, and June, love to be on the water too, especially when that is where the boys are. Oh poor Scrooge, boating is more fun then you could possibly imagine."
FROM Scrooge: "After seeing how much fun you all have on the water together, I regret that I didn't have that much fun when I was young. I've had a change of heart, and I'm giving each of you a Lifetime Academy Membership."
FROM Editor: "For those of you that have stayed with us this far, many thanks. You inspire us to keep working on this labor of love. We know that we have a lot more to do. Ultimately, we hope that we can help you enjoy the wonder filled world of boating as much as we do. We are all waiting to see what you have to say about this webpage article. Submit any comments via email To⇒Comments@EverthingAboutBoats.org. Be sure to include this page's title in the subject line. Also, your corrections, updates, additions and suggestions are welcomed. Please submit them via email To⇒Editor@EverthingAboutBoats.org. Let's work together on this."
♥