---
In the United States, Statutes include the United States Code (USC) especially Titles 33 and 46, and regulations such as the Code of Federal Regulations (CFR) especially Titles 33 and 46.
The USCG produced the following pamphlets to help recreational boaters and commercial fishermen comply with the Federal Requirements. Click the pamphlets to view or download.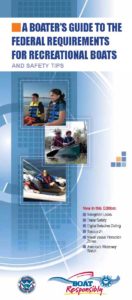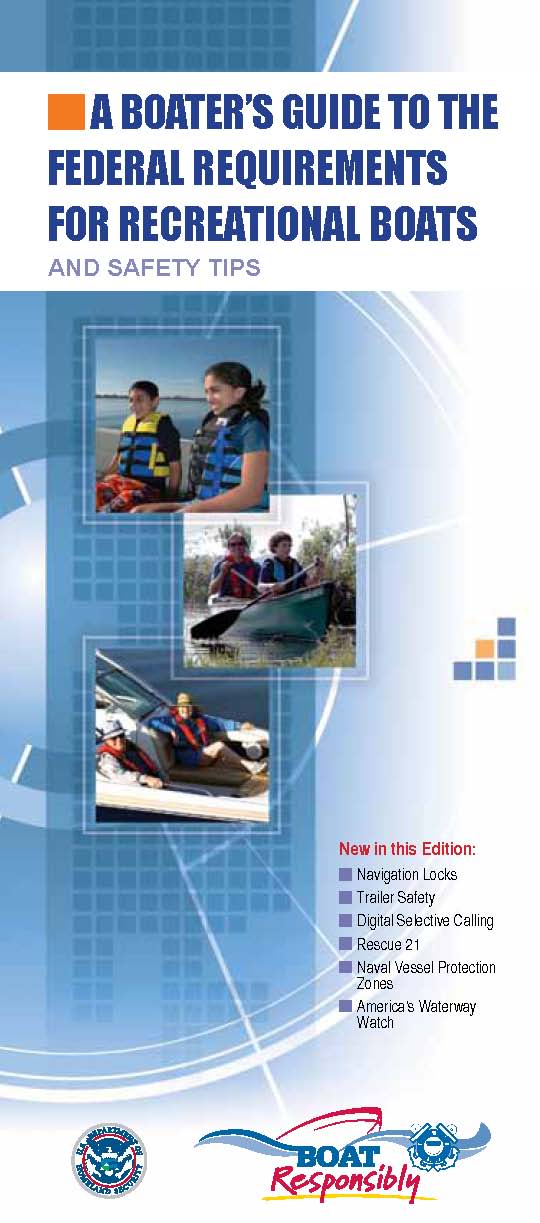 CLICK HERE for "A Boater's Guide To The Federal Requirements For Recreational Boats" Pamphlet from the USCG Website – OR from the AEABoats Archive
CLICK HERE for Recreational Vessel Safety Check information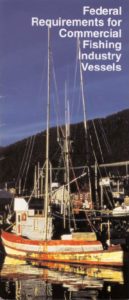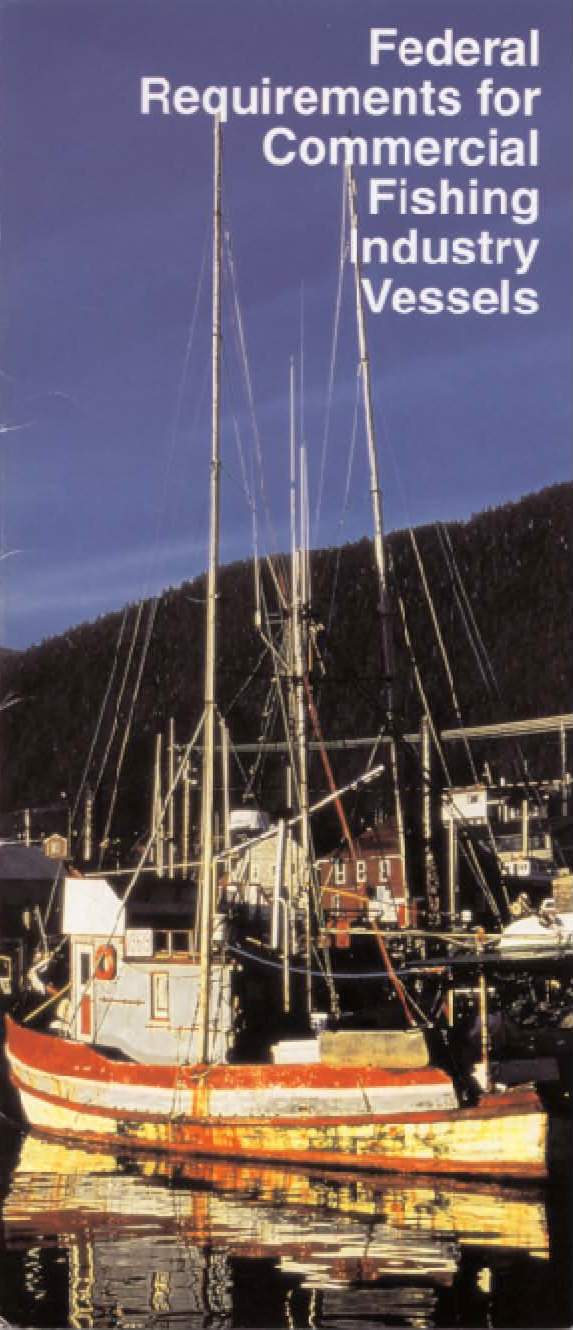 CLICK HERE for "Federal Requirements For Commercial Fishing Industry Vessels" Pamphlet from the USCG Website – OR from the AEABoats Archive
CLICK HERE for Commercial Fishing Vessel Dockside Safety Examination information
Title 33 and Title 46 of the Code of Federal Regulations are frequently consulted by Boatbuilders, Marine equipment manufactures, Classification societies, engineering firms, deck officers on oceangoing vessels, and marine engineers.
See the Code of Federal Regulations that pertain to Recreational Boating Safety online
See the United State Code that pertain to Recreational Boating Safety online
UNITED STATES CODE
The Code of Laws of the United States of America (variously abbreviated to Code of Laws of the United States, United States Code, U.S. Code, U.S.C., or USC) is the official compilation and codification of the general and permanent federal statutes of the United States. It contains 52 titles. The two titles of particular interest to mariners and the marine industry are Titles 33 and 46.
CODE OF FEDERAL REGULATIONS
The Code of Federal Regulations (CFR) is the codification of the general and permanent rules and regulations (sometimes called administrative law) published in the Federal Register by the executive departments and agencies of the federal government of the United States. The CFR is divided into 50 titles that represent broad areas subject to federal regulation. The two titles of particular interest to mariners and the marine industry are Titles 33 and 46. While they may appear similar to the titles in the U. S. Code, they are NOT the same.
---
The US has participated in the SOLAS, MARPOL, Load Line and Collision Regulations Conventions, and joined the resulting treaties.
SOLAS CONVENTION
The International Convention for the Safety of Life at Sea (SOLAS) is an international maritime safety treaty. It ensures that ships flagged by signatory States comply with minimum safety standards in construction, equipment and operation. The Radio watchkeeping requirements are promulgated by it. The SOLAS Convention in its successive forms is generally regarded as the most important of all international treaties concerning the safety of merchant ships.
MARPOL CONVENTION
MARPOL is short for marine pollution. MARPOL 73/78 (short for the years 1973 and 1978) is one of the most important international marine environmental conventions. It was designed to minimize pollution of the seas, including dumping, oil and exhaust pollution. Its stated object is to preserve the marine environment through the complete elimination of pollution by oil and other harmful substances and the minimization of accidental discharge of such substances. All ships flagged under countries that are signatories to MARPOL are subject to its requirements, regardless of where they sail and member nations are responsible for vessels registered under their respective nationalities.
LOAD LINES CONVENTION
The International Convention on Load Lines (CLL) was signed in London on 5 April 1966, amended by the 1988 Protocol and further revised in 2003. The 1988 Protocol was adopted to harmonise the survey and certification requirement of the 1966 Convention with those contained in the International Convention for the Safety of Life at Sea (SOLAS) and MARPOL 73/78.
According to the CLL 66/88, all assigned load lines must be marked amidships on each side of the ships engaged in international voyages. The determinations of the freeboard of ships are calculated and/or verified by classification societies which issue International Load Line Certificates in accordance with the legislation of participating States. This Convention provides for the terms of ship's surveys, issuance, duration, validity and acceptance of International Load Line Certificates, as well as relevant State control measures, agreed exemptions and exceptions.
Annexes to the Convention contain various regulations for determining load lines, including details of marking and verification of marks, conditions of assignment of freeboard, freeboard tables and corrections, special provisions for ships intended for the carriage of timber and the prescribed form of International Load Line Certificates. Also taken into account are the potential hazards present in different zones and different seasons and additional safety measures concerning doors, hatchways etc.
IMCO COLLISION REGULATIONS TREATY (72COLREGS)
Sometimes referred to as the Rules of the Road, the International Regulations for Prevention of Collisions at Sea, 1972 (72COLREGS) are the Navigation Rules  (COLREGS when in International Waters or waters outside the COLREGS Demarcation Line or Inland Navigation Rules inside the Demarcation Lines) are regulations which aid mariners in safe navigation, just as driving laws aid vehicles in safe driving. Professional Mariners must be proficient in the Rules of the Road but all mariners should know and understand the Rules.  The Rules are legally binding and application of them makes the waterways safer for everyone.
The International Rules were formalized in the Convention on the International Regulations for Preventing Collisions at Sea, 1972, and became effective on July 15, 1977. The United States has ratified this treaty and all United States flag vessels must adhere to these Rules. President Ford proclaimed the 72 COLREGS and the Congress adopted them as the International Navigation Rules Act of 1977.
Per 33 CFR 83.01(g), the operator of each self-propelled vessel 12 meters (39.37 feet) or more in length shall carry on board and maintain for ready reference a copy of the Inland Navigation Rules. Electronic copies of the Navigation Rules are acceptable, however, only if they are currently corrected to the latest Notice to Mariners and can be made available for ready reference.  The unwritten rule of thumb: 'readily' means that you are able to avail yourself of a Rule(s) within 2 minutes of the need to do so.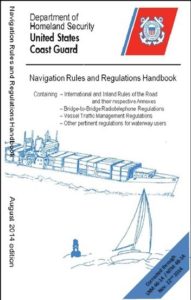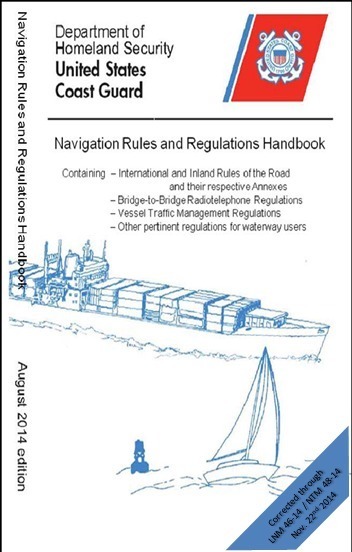 Click Here to view the latest version of the COLREGS
The 72 COLREGS were developed by the Inter-Governmental Maritime Consultative Organization (IMCO), which has since been renamed the International Maritime Organization (IMO).  The IMO has adopted 86 amendments to the COLREGS, the most recent of which was in 2007.
---
Section Under Development
Hull Identification (HIN & MIC) with Manufacturers Recalls
More from USCG Manufacurers Identification Code (MIC) Database
---
NVIC (Navigation and Vessel Inspection Circulars)
A Navigation and Vessel Inspection Circular provides detailed guidance about the enforcement or compliance with a certain Federal marine safety regulations and Coast Guard marine safety programs.  While NVIC's are non-directive, meaning that they do not have the force of law, they are important "tools" for complying with the law.  Non-compliance with a NVIC is not a violation of the law in and of itself, however non-compliance with a NVIC may be an indication that there is non-compliance with a law, a regulation or a policy.
NVIC's are used internally by the Coast Guard to ensure that inspections and other regulatory actions conducted by our field personnel are adequate, complete and consistent.  Likewise, mariners, the marine industry and the general public use NVIC's as means of determining how the Coast Guard will be enforcing certain regulations or conducting various marine safety programs.  NVIC's are issued by the Assistant Commandant for Prevention Policy (CG-5P) and address a wide variety of subjects, including: vessel construction features; mariner training and licensing requirements; inspection methods and testing techniques; safety and security procedures; requirements for certain Coast Guard regulatory processes; manning requirements; equipment approval methods; and special hazards.
NVIC's are numbered consecutively by year, e.g., NVIC 7-02 would be the seventh NVIC issued in 2002.  The "zero" NVIC, numbered 00, is always the index of NVIC's in force or still current at the beginning of the calendar year.  For example, NVIC 00-07 is a list of all NVIC's in effect as of January 1, 2007.
Click Here to see the complete listing of NVIC's by year
More about NVIC from the USCG website: http://www.uscg.mil/hq/cg5/nvic/
---
In addition to the federal laws and regulations, many individual states, districts, counties, and municipalities have their own laws, ordinances and regulations.
The National Association of State Boating Law Administrators offers a reference guide to promote greater uniformity in state boating laws and to facilitate the enforcement and administration of such laws. CLICK HERE to view the NASBLA Boating Law Manual Online.
Next section Under Development
See Directory of United States below for additional laws, requirements, etc.
STATES
Alabama
Alaska
Arizona
Arkansas
California
Colorado
Connecticut
Delaware
Florida
Georgia
Hawaii
Idaho
Illinois
Indiana
Iowa
Kansas
Kentucky
Louisiana
Maine
Maryland
Massachusetts
Michigan
Minnesota
Mississippi
Missouri
Montana
Nebraska
Nevada
New Hampshire
New Jersey
New Mexico
New York
North Carolina
North Dakota
Ohio
Oklahoma
Oregon
Pennsylvania
Rhode Island
South Carolina
South Dakota
Tennessee
Texas
Utah
Vermont
Virginia
Washington
West Virginia
Wisconsin
Wyoming
Federal District
Washington, D.C.
US Territories
American Samoa
Guam
Northern Mariana Islands
Puerto Rico
US Virgin Island
---
♥
---

Visit our FEATURED ARTICLES Home Page
to see examples of our website's comprehensive contents!
Thanks to our amazing contributors for the steady flow of articles, and to our dedicated all-volunteer staff who sort, polish and format them, everyday we get a little bit closer to our goal of
Everything About Boats. If you would like to submit an article,
see Submitting Articles.
— 
TOP 20 MOST POPULAR ARTICLES

 —
---
What our nonprofit Anchors Aweigh Academy and its
EverythingAboutBoats.org website have accomplished so far.
Published over 300 website main topic webpages, many with full articles on the topic. See our Website Contents in the Right Sidebar for the listing of the main topic pages.
Published over 9,000 marine vendor webpages, all with their contact information, most with a description of their products and services, many with product documentation, specifications and independent reviews. (Includes: Boat designers, boat building tools, material and equipment manufacturers and suppliers, boat builders and dealers, yacht brokers, marine surveyors, boat insurers, boat transporters, skippers and crews, boatyards and marinas, yacht clubs, boat rentals and yacht charters, boating, seamanship and maritime schools, marine law attorneys and expert witnesses, boat refitters and repairers, book authors and publishers, and video producers)
Acquired over 120,000 pages of product documentation including Catalogs, Brochures, SpecSheets, Pictures, Serial Number Guides, Installation Manuals, OpManuals, Parts Schematics, Parts Bulletins, Shop Manuals, Wiring Diagrams, Service Bulletins, and Recalls. And have made all viewable to academy members through the EAB website.
Acquired over 1,200 books and magazine back issues in our academy library and so far have made over 700 viewable to academy members through the EAB website.
Published over 500 DIY How-To articles about boat design, construction, inspection, operation, maintenance, troubleshooting and repair. We are working hard to do more.
We are currently formatting and polishing the Anchors Aweigh Academy online and hands-on courses. The Marine Surveying course has proven to be excellent for both the beginner and the seasoned surveyor, and especially helpful to the Do-It-Yourselfer.
---
Current Academy Members must SIGN IN to gain FULL access
to this website including the Members' Comments & Reviews!
If your membership has expired, CLICK HERE to Renew.
IF YOU ARE NOT YET AN ACADEMY MEMBER,
CLICK HERE to discover how you can become a Member and gain FULL access to
thousands of expanded pages and articles, and dozens of excellent programs
WITH JUST A SMALL DONATION!
Thank you for your support. You make this website possible.
♥
---
Comments for Public Viewing
Submit any comments for public viewing via email
To⇒Comments@EverthingAboutBoats.org
Please remember to put this webpage's title in the subject line of your email.
All comments are moderated before they appear on this page. See Comment Rules.
FROM Donald: "This is an awesome website. I found the information that I needed right away from one of the over 10,000 free articles that you provide as a public service. I'm surprised that so much if this site is free. But I still signed up so I could access the thousands of expanded pages, interesting articles, and dozens of valuable programs! The member's library of books, magazines and videos that I can view online is really terrific! I understand that you and your staff are all unpaid volunteers. Please keep up the good work. And I commend you for your plans to add another 10,000 free informative articles over the next year. I'm thrilled to support you in this endeavor with my small membership donation. Thanks again for all your hard work."
FROM Huey: "I agree with my Uncle, I too have found the articles to be very enlightening. They say that it will take about 50,000 articles to cover the full scope that they have envisioned for the website. They have over 10,000 articles so far and that's doing pretty well, but it could take several years to get the rest. I also noticed that many of the Main Topic Pages and some of the article pages are still in the rough draft stage. I guess that they will fill in as they can get volunteers to work on them. But what I can't figure out is why anyone would spend the time writing informative in depth articles just to give away free to this website for publication? What's in it for them?"
FROM Dewey: "Well Huey, to me It looks like most of the articles on this website are written by very informed people, like boating instructors, boat designers, boat builders, riggers, electricians, fitters, marine repair technicians and marine surveyors. Writing such articles helps establish them as knowledgeable professionals. After all, this website was originally created by a school for marine technicians and marine surveyors. The website is growing in content every day. They even had to move to a bigger, more powerful server on October 15, 2018 because the website's traffic has been growing exponentially."
FROM Louie: "I agree with everyone above. This site is quickly becoming the ultimate reference resource about every aspect of boats and ships for everyone from the beginning recreational boater to the seasoned professional mariner. I use the topic pages on the right sidebar to browse around the website. It's like a Junior Woodchucks' Guidebook for Boaters. Their Members' Library of over 300 popular and obscure books and over 200 magazine back issues that can be viewed online is fabulous. The Academy's magazine is especially informative. On top of that, there is the "Ask-An-Expert program for members where you can get an expert's answer to any of your boat questions. And a whole years membership is only $25. What a deal! I really love being part of this "Everything About Boats" community and help provide thousands of helpful articles free to the public. I think that I'll sit down right now and write an article about my experiences boating with my uncle."
FROM Scrooge: "You rave about this website like it was the best thing since sliced bread. Well, I think it stinks. Sure, it has a lot of good information for boaters, and they're adding more every day, but it will probably never be finished. Furthermore, I don't even own a boat. And I wouldn't have a boat even if someone gave me one. Boats are a waste of money and time and energy and money! They're just a hole in the water you pour money into. If you gave me a boat, I'd sell it quicker then you could say Baggywrinkle. Then I'd lock up the cash with all my other money so I could keep my eye on it and count it every day. Bah humbug."
FROM Daisy: "I'm just so glad that Donald got the boat so we and the boys could enjoy boating — together. And of course all of the girls, April, May, and June, love to be on the water too, especially when that is where the boys are. Oh poor Scrooge, boating is more fun then you could possibly imagine."
FROM Scrooge: "After seeing how much fun you all have on the water together, I regret that I didn't have that much fun when I was young. I've had a change of heart, and I'm giving each of you a Lifetime Academy Membership."
FROM Editor: "For those of you that have stayed with us this far, Thanks. You inspire us to keep working on this labor of love. We know that we have a lot more to do. Ultimately, we hope that we can help you enjoy the wonder filled world of boating as much as we do. We are all waiting to see what you have to say about this webpage article. And we assure you, your corrections, updates, additions and suggestions are welcomed. Let's work together on this." ♥
FROM Name: Text.
---
Academy Members' Comments & Reviews
♥ Academy Members must be signed in to post and view ♥