PATH:  Home » Contents > Boat Building » Boat Equipment > Boat Trailers >
---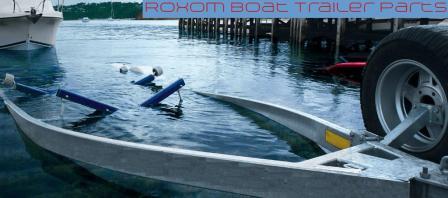 Boat trailer spares is an established family business with over 30 years experience in manufacturing and distribution of premium plastic components and boat trailer spares & accessories. With our head office located in Oregon, our plastic boat trailer parts, including boat rollers, bunks and slicks are made out of HDPE Polyethylene and are designed specifically for aluminium boats hulls and trailers. Unlike rubber and PVC boat trailer parts and rollers, our HDPE polyethylene trailer parts range will last longer and will potentially not crack or split which can cause serious potential damage to you, your boat and your trailer. Boat Trailer Spares plastic trailer components and their long life make them more economical in the long run. Limited down time, low maintenance and less stress struggling with your trailer at the boat ramp allows you to spend more time enjoying what you love most!
Boat Trailer Spares plastic trailer products are manufactured locally in the USA which gives us a major pricing advantage over the competition. Our number one goal is to offer customers with high quality boat trailer rollers and boat trailer accessories at competitive prices while still maintaining a premium product.
In today's world, DIY trailer repairs are becoming more and more popular. We have discovered boating enthusiasts all around the country love working on their pride and joy and are always looking to not only repair, but perform great upgrades to their boat trailer to keep it in the best working condition possible to suit their individual boating needs. One thing that separates us from the rest – We deal direct with the end user which allows us to know exactly what they want and the price they are looking for.
Boat Trailer Spares also offers a comprehensive DIY boat trailer education service online to assist you with the installation of a majority of our boat trailer products and accessories. Our aim; to get you and your vessel / boat / yacht & PWC out on the water whenever you feel, safely and with ease.
Boat Trailer Spares Online USA also offers customers the ability to buy new boat trailer hardware which includes roller brackets, spindles, winches, jockey wheels, trailer mudguards, multi roller conversion kits and a full range of trailer LED lights & accessories. These replacement spare parts are ideal for any boat trailer in need of repair or a simply upgrade to their old worn down trailer parts.
Thank you for visiting Boat Trailer Spares Online USA – we look forward to assisting you further!
If you have product inquiries or wish to place an order, please contact us direct.
US Website: http://boattrailerspares.com/contact-us/
Roxom head office contact – AU:
Roxom Pty Ltd
1/49 Boyland Ave.
Coopers Plains, QLD, 4301.
0421475422. Please call prior to any arranged pick-ups.
Website: roxom.com.au
Contact Form: https://roxom.com.au/contact
Roxom is proud to be supplying all of Australia's capital cities and rural areas:
Brisbane Boat Trailer Parts
Gold Coast Boat Trailer Parts
Melbourne Boat Trailer Parts
Dandenong Boat Trailer Parts
Sydney Boat Trailer Parts
Adelaide Boat Trailer Parts
Perth Boat Trailer Parts