PATH:  Home » Contents > Boat Building » Boat Equipment > Boat Trailers >
---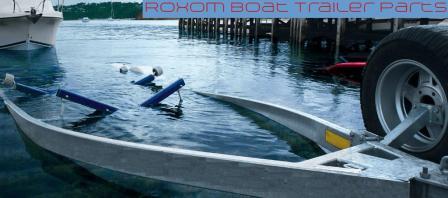 Roxom – Buy Discount Boat Trailer Parts & Accessories
Roxom Marine boat trailer parts & accessories is an established family business with over 25 years experience in manufacturing and distribution of premium plastic components and boat trailer spares. Roxom Marine plastic boat trailer parts are made out of HDPE Polyethylene and are designed specifically for aluminium boats and trailer. Unlike rubber and PVC boat trailer parts, our trailer parts range; Boat trailer Rollers, bunks, skids and bumper cover will not crack or split which may cause potential damage to you, your boat and your trailer. Roxom plastic trailer parts and their long life make them more economical in the long run. Less down time, less maintenance and less stress struggling with your trailer allows you spend more time enjoying what you love most, more time on your boat with your family and friends! Roxom boat trailer parts also offer a complete range of soft polyurethane rollers designed specifically for fiberglass boats.
Roxom is an established family run business that has been operating in the plastics industry for over 25 years. Our product range includes boat trailer parts including boat trailer rollers, skids, bunks and bumper covers made out of HDPE Polyethylene plastic.
Roxom boat trailer parts are manufactured locally in Australia using only the highest quality plastics available from some of the worlds top plastic raw material suppliers. Due to the nature of our products, it is recommended that they are best used on aluminium boat hulls and trailers. Products suitable for fibreglass hulls are labelled as polyurethane boat trailer parts.
We aim to be a leader in Australia of all things boats and trailers. Our product range has expanded to the likes of – Multi Roller Conversion Kits, Boat Trailer Brackets, Trailer Mud Guards for boat trailers and box trails, Jockey wheels, Winches, Tow Balls, Hitches, Couplings and Trailer Lights. No matter what spare part you are seeking, we are likely to have access to it for you making us your number one supplier for all your trailer spare parts.
Along with our trade mark products; Plastic boat trailer parts; we also machine and sell 4WD Body Lift Blocks which are extruded & machined out of HDPE Polyethylene. Our 4WD Body lift kits help our customers who's passion it is taking their vehicles off road by supplying them parts that allow them to do what they love best! Driving without the worry of getting bogged or stuck trying to get up and over large obstacles.
Roxom is proud to be supplying all of Australia's capital cities and rural areas with our products. For more information on purchasing our products online in Melbourne, Brisbane, Sydney, Adelaide & Perth please contact us direct, or feel free to navigate our website to view the products you desire.
To buy spare parts online, please visit our online shop by clicking here.
Roxom head office contact – AU:
Roxom Pty Ltd
1/49 Boyland Ave.
Coopers Plains, QLD, 4301.
0421475422. Please call prior to any arranged pick-ups.
Website: roxom.com.au
Contact Form: https://roxom.com.au/contact
Roxom is proud to be supplying all of Australia's capital cities and rural areas:
Brisbane Boat Trailer Parts
Gold Coast Boat Trailer Parts
Melbourne Boat Trailer Parts
Dandenong Boat Trailer Parts
Sydney Boat Trailer Parts
Adelaide Boat Trailer Parts
Perth Boat Trailer Parts
Also Now In The USA